Three days "In the midst of God's miracle" (Photo)
11 September 2012
The large Christian conference "In the midst of God's miracle", which was held at the construction site of a building of the church came to an end on September 9 in Donetsk. A lot of people from all over Ukraine and foreign countries were gathered in the open-air, and despite the weather, the atmosphere was filled with God's presence, joy and love. Our guests were able to hear the Word of God, get healing and fulfillment of their needs.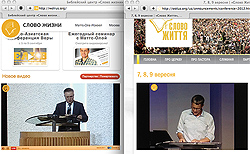 On Thursday, September 6 there was the ministry for pastors and leaders in the building of the Biblical Institute of the "Word of Life" Church in Donetsk. At that time there was a "friendly exchange" between the churches "Word of Life" in Donetsk and Moscow, where there was also Pastoral Leadership Conference: the senior pastor of the Ukrainian Christian Evangelical Church Leonid Padun has preached and served in Moscow, and the senior pastor of the "Word of Life" Church in Russia Mats-Ola Ishoel was in Donetsk. Both churches have been blessed and inspired by the Word from God.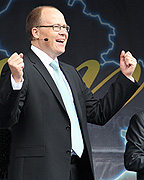 General conference meeting that took place in the next three days were held in the open-air. On Friday, September 7, the weather was not sunny, but despite the rain and the wind, the conference continued in the planned scope. Morning and afternoon, a missionary from Sweden, pastor of the "Word of Life" Church in Kharkov Mats-Jan Söderberg preached about the Holy Spirit as promised Helper and Comforter for every believer in Jesus Christ.
The arrival of the pastor of the "Word of Life" Church in Sweden Stefan Salmonsson became a great blessing to the participants of the conference. Pastor Stefan preached about the great importance of praising God at all times and remembering His miracles in our life. He also spoke about God's freedom in the life of every believer, new periods in life and the signs of their approach.
Pastor Leonid Padun in his sermons shared practical steps from the Bible on how to get your miracle from God. He also spoke about the dreams and the importance of never giving up on the way to their fulfillment. Pastor Leonid also shared with the Word of God about the further actions in the construction of the church building.
On Saturday within the framework of the conference there was the traditional festive meeting dedicated to Ukraine with the heads of the Christian churches of various denominations, religious and social organizations. The church service was ended with a joint prayer for the blessing of Ukraine and the Lord's Prayer.
The entire conference had a special and prophetic significance for the church. After receiving encouragement and inspiration from God, believers went home with new hope and confidence in a good future for themselves, their families, churches and Ukraine!